We regret that the Del Brown Permit Tournament for 2020 has been cancelled.
Our 2021 Tournament is scheduled for July 18 – 21, 2021.
The Del Brown Permit Tournament has been cancelled for 2020. Due to restrictions as a direct result of Covid-19. We value the support the Del Brown has received over the years through our wonderful anglers and guides, and also our sponsors. We recognize this has been a difficult time for all and putting on a great event takes planning for months in advance. We hope you will still be able to join us in 2021. The dates for the Del Brown in 2021 are July 18 – 21, 2021.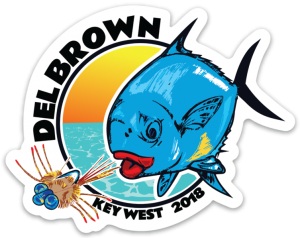 The 2018 Del Brown kicks off tonight at La Trattoria Oceanside! We have 22 teams of angler and guide competing for top honors in the 18th Annual Del Brown Invitational Permit Tournament. Fishing begins Monday, July 16th at 7:30AM from Hurricane Hole Marina. Boats must conclude fishing each day at 3:30PM and be back to the scorekeeper by 4:30PM (or report in). Awards will be on Wednesday around 5:30PM at the upstairs dining room at Hurricane Hole Bar & Grill.
Rich Barnett                         Davie, FL             Capt. Joe Rodriguez
Ivar Bolander                 Santa Rosa, CA       Capt. Steve Friedman
Tim Brune                            Victor, ID               Capt. Bob Paulson
Scott Christian                    Milton, GA          Capt. John Benvenuto
Mike Dawes                       Wilson, WY               Capt. Will Benson
Tom del Bosque             Boca Raton, FL             Capt. Scott Irvine
Robert Dougherty                Dallas, TX                    Capt. Ian Slater
Connor Flanagan              Bozeman, MT            Capt. Brandon Cyr
John Holt                     Summerland Key, FL          Capt. Trevor Luce
Jim Knowles                     Round Hill, VA           Capt. Peter Heydon
Jack Lambrecht                   Stuart, FL                  Capt. Aaron Snell
Nathaniel Linville                Key West, FL            Capt. John O'Hearn
Alan Rivoir                          Denver, CO              Capt. Mike O'Brien
Justin Sexton                   Englewood, FL         Capt. Bear Holeman
Joe Skrumbellos                 Sunrise, FL           Capt. Matt Fitzgerald
Chris Stinnett                    Key Largo, FL            Capt. Rob Kramarz
José Ucan                   Punta Allen, Mexico            Capt. Justin Rea
Kat Vallilee                        Key West, FL         Capt. Drew Delashmit
Peter Vandergrift               Bozeman, MT            Capt. Shane Smith
Mike Ward                        Spokane, WA                Capt. Don Gable
Nick Worswick                  New York, NY            Capt. Mike Bartlett
Ed Young                         Grapevine, TX            Capt. Scott Collins
Del Brown Perpetual Trophy
The new Del Brown Invitational Permit Tournament perpetual trophy is now on display at The Angling Company at 333 Simonton St in downtown Key West. The sculpture was created by Chris Bladen of South Africa specifically for the Del Brown. The base of the trophy is made of solid local mahogany and created by Key West Custom Woodwork.
The perpetual trophy shows 17 years of grand champion anglers and guides.
The 18th Annual Del Brown is scheduled for July 15-18, 2018 here in Key West, FL. The fishing tournament headquarters will be at Hurricane Hole Marina on Stock Island. Boats will leave from and return to Hurricane Hole each fishing day. Lines out are at 3:30PM and all scoring will be completed by 4:30PM each day.
We are gearing up for a great spring here in the Keys. We've had some ups and downs as far as the weather goes but when the fish are cooperating it's been very good out there on the flats.
The 2018 Del Brown is scheduled for July 15-18 this year. The tournament will be held in Key West again and registration is now open for returning anglers. If you are interested in fishing the Del Brown please feel free to email us or fill out the registration form.
The entry fee this year is $1,250 and all entry fees are due by May 15, 2018 to ensure your spot. The entry fee includes all social events, tournament bag, breakfast and a boxed lunch for guide and angler each fishing day.
We are looking forward to seeing you this July!
Many thanks to all the supporters of the Del Brown, both past and present. We appreciate your generosity greatly!
About Del Brown
The Del Brown Permit Tournament is dedicated to the man who made permit fishing with a fly rod famous, the late Del Brown. Brown caught 513 permit on a fly rod in his lifetime. Brown tied a fly called the "Merkin" that was a close enough representation of a crab that permit rushed to eat it. Today there are many styles of the Merkin fly, most of them are a representation of Brown's crab. The Del Brown Permit Tournament was established in 2001 and continues to honor the late Del Brown with this annual event in July. The Del Brown makes a contribution to Bonefish Tarpon Trust annually to the Jon Ain Memorial Fund for continued permit research.